August 9, 2016
JAMA Announces Fourth "BIKE LOVE FORUM"
~ Scheduled for Next Month in Kobe City, Hyogo Prefecture ~
The Japan Automobile Manufacturers Association (JAMA) is pleased to announce plans to work with motorcycle industry groups and national and regional government authorities in holding the fourth "BIKE LOVE FORUM (BLF)"*1 in Kobe City (Hyogo Prefecture) in western Japan on this coming September 17 (Saturday). The venue chosen for this new regular annual event is Kobe Harborland, where the keynote theme of "Expanding People and Society with Motorcycles" will be addressed.
The Forum is cosponsored by Kobe City in Hyogo Prefecture, and will be staged through collaboration with "Kobe Fashion Week."
1. Date & Time:
September 17 (Sat) 2016 / 1:00 to 5:00 p.m.
2. Venue:
Kobe Harborland (Space Theater)
1-3-3 Higashi-Kawasaki-cho, Chuo-ku, Kobe City
Tel. (078) 360-3639 (Kobe Harborland General Information)
Hours: 10:00 a.m. to 7:00 p.m.
3. Organizer:
BIKE LOVE FORUM Planning Committee*2
4. Program:
Presentations of motorcycle promotion measures, discussions of market vitalization strategies
5. Target Audience:
BLF sponsors, media, general public
- Media reps are requested to report to the special media reception desk
- Members of the general public are also warmly encouraged to join the Forum audience (admission is free)
* Event seating space is limited
6. Other:
An exhibit of domestic and foreign brand motorcycles will be held at the neighboring venue ("umie") from 10:00 a.m. to 9:00 p.m. on the same day. Visitors may take advantage of a special photo opt area where they can board selected machines for tandem riding poses with models (10:00 a.m. to 5:00 p.m.)
*1: BLF
BIKE LOVE FORUM is an event sponsored with the key focus on motorcycle manufacturers, industry groups and local government authorities. The purpose is to contribute to creating a positive global motorcycle culture, while advancing measures to promote the motorcycle industry and market. General motorcycle users will also be brought onboard in a program aimed at stimulating candid discussions of how to capture greater recognition and acceptance of motorcycles in the general society, effective means of achieving coexistence with automobiles, future visions for the use and role of motorcycles and other timely topics.
(Past BIKE LOVE FORUM events)
- First Forum: September 2013 (Suzuka City, Mie Prefecture).
- Second Forum: August 2014 (Hamamatsu City, Shizuoka Prefecture).
- Third Forum: September 2015 (Kumamoto City, Kumamoto Prefecture).
*2: BIKE LOVE FORUM Planning Committee Members (random order)
- National and local government authorities (9): Ministry of Economy, Trade and Industry, Mie Prefecture, Suzuka City, Shizuoka Prefecture, Hamamatsu City, Iwata City, Kumamoto Prefecture, Hyogo Prefecture, Kobe City.
- Motorcycle industry groups (8): Japan Automobile Manufacturers Association, Japan Auto Parts Industries Association, Japan Autobike Cooperative Society, Japan Motorcycle Promotion & Safety Association, Japan Automobile Importers Association, Japan Motorcycle Accessories Association, Japan Auction Bike Association, Used Motorcycle Distribution Association.
< Inquiries Concerning BLF >
Japan Automobile Manufacturers Association / Public Relations Office
(Tel: 03-5405-6119)
Fourth "BIKE LOVE FORUM" in Kobe City, Hyogo Prefecture
Program Schedule (*1)
12:00 noon Doors open
The venue site will include distribution of emergency rations by the Kobe Gakuin University "Disaster Prevention Girls" unit, balloon art, woodworking lessons, local government booths and other attractions.
1:00 p.m. Opening Ceremony (welcome address)
1:15 p.m. Motorcycle Industry Policy Roadmap(*2) Progress Report
<Talk Show>
1:30 p.m. Part 1: Disaster Prevention and Motorcycles (introduction of support activities upon disasters)
3:00 p.m. Part 2: Motorcycle Culture (Learning from the hit animated feature "Bakuon")
4:00 p.m. Part 3: Sneakers and Motorcycle Fashion (ASICS & JMCA collaboration)
4:30 p.m. Forum Wrap-up
5:00 p.m. Closing Ceremony (address)
(*1) Contents, times and other details of the program are subject to change without notice.
(*2) Announced on May 16, 2014, the Motorcycle Industry Policy Roadmap summarizes the policy issues facing the domestic and overseas motorcycle markets and practical measures for resolving those challenges, envisioning achievement of the shared goals of BLF.
◆◇ Collaboration with Kobe Fashion Week (KFW) Autumn/Winter 2016 ◆◇
At Kobe Fashion Week Autumn/Winter 2016, slated to open on September 16, an illustration of mascot characters "Ko Bear and Moko Bear" riding in tandem (lower right) will be featured as the main PR visual, to help stir up greater interest and further liven the festive mood for both KFW and BLF in Hyogo・Kobe. Along with this, tandem riding photos with models shot at the event held in the adjoining "umie" venue will be uploaded on the KFW official website and SNS network.
<Access Information Map>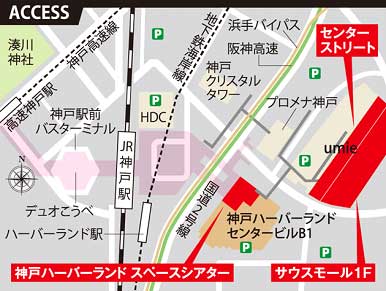 <"Tandem Riding" PR Illustration>


Back