Press Releases
JAMA Raises Awareness of Ecodriving through the Publication of e-Learning Content
JAMA Raises Awareness of Ecodriving through the Publication of e-Learning Content
The Japan Automobile Manufacturers Association, Inc. (JAMA) has posted e-learning content on the JAMA website to promote increased public awareness of fuel-efficient ecodriving practices.
In May 2016, Japan's Cabinet endorsed a "Plan for Global Warming Countermeasures." One measure for automobiles outlined in the plan calls for the reduction of CO2 emissions through fuel-efficient ecodriving, and both the government and JAMA are promoting ecodriving practices.
In 2017, an animated video* (in Japanese only) aimed at promoting ecodriving among younger drivers was published on the JAMA website.
To promote more widespread awareness and encourage the adoption of fuel-efficient ecodriving practices, JAMA has now created "Ecodriving e-Learning Content: The Quiz and the Game" (http://jama-eco-drive.com).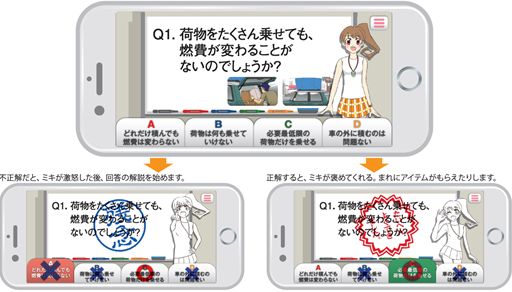 The Quiz

The Game
The e-learning content (in Japanese only) is based on the previously released animated video. The quiz, whose questions quiz takers can reply to on their smartphones and computers, enables them to learn about fuel-efficient ecodriving and global warming (providing, for example, an overview of the Paris Agreement and of energy-saving measures that can be adopted at home), while the game engages individual players in a competition of their ecodriving skills.
A sample quiz question:
Q. If your car is carrying a heavy load, will its fuel efficiency be affected?

This e-learning content has been published on the JAMA website and is also set to be posted on the websites of related industry associations, to optimize its viewership. In this way, JAMA intends to promote even greater awareness of fuel-efficient ecodriving practices.
For reference:
The Paris Agreement was ratified in 2017 by the Japanese government, which has established a greenhouse gas emissions reduction target of 26% below 2013 emission levels by 2030; Japan's transport sector will aim to reduce CO2 emissions by approximately 28% within the same time frame. The Japanese automobile industry will continue to vigorously promote CO2 reduction in road transport through vehicle-based measures, through advocating the adoption of fuel-efficient ecodriving practices by vehicle users, and through the implementation of road infrastructure-related measures by the relevant stakeholders.
JAMA is creating and publishing tools that help raise awareness of ecodriving, as part of its activities aimed at reducing greenhouse gases and contributing to society.
To view "Ten Tips for Fuel-Conserving Ecodriving"