Press Releases
JAMA Launches Its 2019 Spring Road Safety Campaign
JAMA Launches Its 2019 Spring Road Safety Campaign
The Japan Automobile Manufacturers Association, Inc. (JAMA) is pleased to announce the conduct of its annual spring road safety campaign from May 11 through June 10 this year. Intentionally, the campaign's duration parallels that of the Japanese government's nationwide spring traffic safety campaign (May 11-20) carried out by the National Police Agency.
In 2018 there were 430,601 road accidents in Japan—41,564 fewer, or down 8.8%, compared with the previous year. Road fatalities totalled 3,532, the lowest level on record since the National Police Agency started compiling road fatality data in 1948. Nevertheless, reducing the annual number of road accidents remains a pressing challenge, with accidents caused by elderly drivers being a matter of particular concern.
The Japanese government's 10th Basic Plan for Road Safety, in effect from fiscal 2016 through fiscal 2020, aims to lower the total annual number of road fatalities to 2,500 or fewer by 2020 in order to achieve its goal of making Japan's roads the safest in the world.
In full support of those goals, JAMA will continue its push for safer motoring conditions nationwide by strengthening its promotion of expanded vehicle-based safety measures and by implementing road user-directed safety measures, including the conduct of its twice-yearly (in spring and autumn) road safety campaigns.
Promotional Image for JAMA's 2019 Spring Road Safety Campaign
Campaign duration: May 11-June 10, 2019
Campaign slogan: Eyes on the road and seatbelts buckled!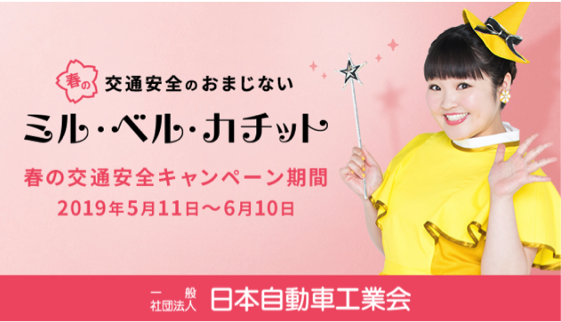 Key Themes of JAMA's 2019 Spring Road Safety Campaign
The campaign seeks to ensure that road safety awareness is translated into measures being taken by vehicle users on a daily basis as a matter of simple routine. To that end, the campaign slogan (see above) adopted by JAMA, with the support of the Japanese Association of Traffic Psychology, is intended to serve as a mnemonic device for the easy and effective retention of its double message.
Promoting seatbelt use by all vehicle occupants including rear-seat occupants
In 2018 the rate of seatbelt use on regular roads was 98.8% for drivers and 95.9% for front passengers, but only 38% for rear-seat occupants.*1 Wearing seatbelts not only reduces the severity of injuries, it also reduces fatality rates by approximately 93%.

*2

For this reason, the campaign's primary message will be to urge both front- and rear-seat vehicle occupants to buckle up at all times.

*1 Sources: National Police Agency, Japan Automobile Federation; *2 Source: National Police Agency

Preventing distracted driving
In 2018 the number of road traffic accidents involving driver distraction caused by the use of screen-based devices (including mobile phones and navigation systems) stood at 2,790—an increase of about 40% over the last five years. In addition, an analysis of road fatality related-data has shown that the use of screen-based devices including mobile phones accounts for approximately a 2.1-times greater likelihood of death.*3 There is a clear need, therefore, to appeal to drivers to keep their eyes on the road ahead.

*3 Source: National Police Agency

For motorcycle riders: Promoting the proper wearing of helmets and the use of chest protectors
Approximately 70% of motorcycle fatalities occur as a result of primary injuries to the head and chest and in over 30% of such fatalities, riders lost their helmets at the time of accident occurrence.*4 Motorcycle riders must therefore be encouraged to fasten their helmet chinstraps securely and wear life-saving chest protectors when riding.

*4 Source: National Police Agency (2018 data)
Campaign Duration / Principal Content / Principal Messages (Summary Overview)
Duration
May 11 (Saturday) through June 10 (Monday), 2019
Principal content

To help prevent vehicle occupant road fatalities, the campaign will urge all vehicle occupants, including rear-seat passengers, always to use their seatbelts.
To help prevent motorcycle rider road fatalities, the campaign will encourage riders to fasten their helmet chinstraps securely and wear chest protectors.

Principal messages
Eyes on the road and seatbelts buckled!
-"Drivers, do not be distracted, keep your eyes on the road ahead."
-"Front-seat and rear-seat vehicle occupants, buckle your seatbelts."
Communication Strategies
Kanako Yanagihara, a media personality popular with people of all ages, will play the role of a "road safety good fairy" in a dedicated campaign video that will be distributed/featured via the media listed below. The video promotes the three key themes of JAMA's 2019 spring road safety campaign—promoting seatbelt use by all vehicle occupants; preventing distracted driving; and promoting the secure fastening of helmet chinstraps and the wearing of chest protectors by motorcyclists.
| | |
| --- | --- |
| YouTube | The video will be accessible on YouTube. |
| Television | The video will be featured in a one-time-only TV commercial broadcast nationwide through the TV Asahi network on May 14. |
| Radio | The video will be featured in radio spots promoted by the Nippon Broadcasting Group networks, from Monday through Friday between May 1 and 31. |
| Campaign website | A dedicated campaign website (http://jama-cp-anzen.jp/) will be launched, for the duration of the campaign and in Japanese only, to provide access to the video and to data related to the campaign's key themes. |
Links featured on JAMA member manufacturers' website homepages and social media accounts will also provide access to the campaign website.