Press Conference
JAMA Vice Chairmen Commit to Working for Japan's 5.5 Million-Strong Auto Industry
JAMA Press Conference March 2023
JAMA Vice Chairmen Commit to Working for Japan's 5.5 Million-Strong Auto Industry
JAMA Press Conference March 2023
Alongside Toyota's leadership change announcement, in late January, President Akio Toyoda indicated that he would also step down as chairman of the Japan Automobile Manufacturers Association (JAMA). After being asked to stay on, however, he is determined to remain in the role.
On March 23, JAMA held an online press conference to explain the situation.
Akio was joined at the press conference by all six JAMA vice chairmen, as well as incoming Toyota President Koji Sato, who is set to take on a vice chairman position in the coming fiscal year.
Vice Chairman Masanori Katayama got proceedings underway.
(Note: Titles of senior officers are as of March, 2023.)
Full Archive of Press Conference
KATAYAMA Masanori, Vice Chairman
(President, Isuzu Motors Ltd.)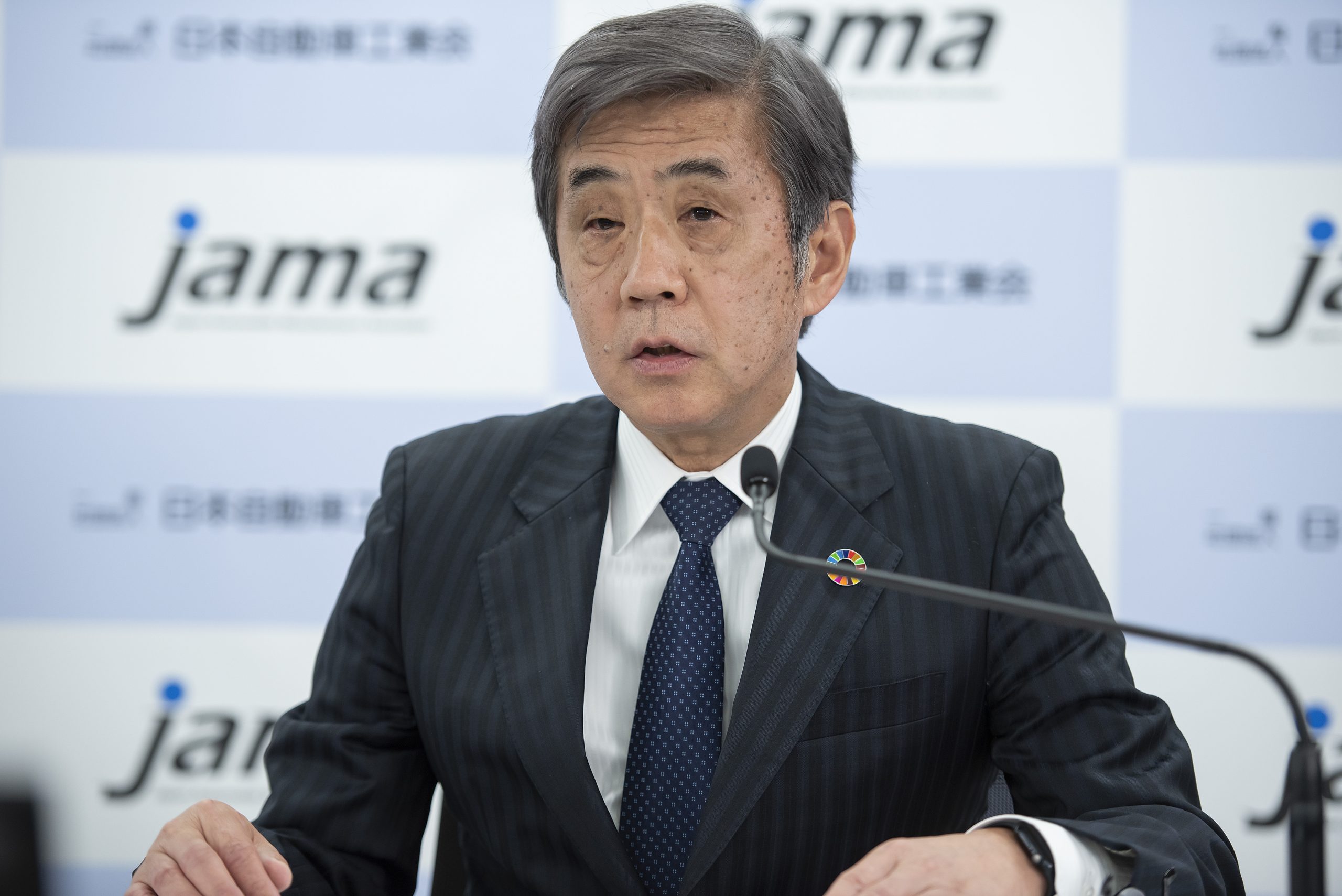 Until now, the Japan Automobile Manufacturers Association has been run under the leadership of Chairman Toyoda.
From the new fiscal year starting April 1, we have decided to strengthen the organization by having the vice chairmen tackle challenges as a team. Our aim is to further accelerate JAMA's evolution and establish a structure that enables truly sustainable growth.
Since January, when Chairman Toyoda indicated that he would step down as chairman, JAMA's directors have been discussing two major challenges.
The first is the issue of succession following Chairman Toyoda's resignation. The second challenge is solving JAMA's management issues, which Chairman Toyoda's decision has brought to the fore.
With regard to Chairman Toyoda's resignation, from a very early stage the directors were unanimous in wanting him to stay on.
To give a little more detail, at a meeting of JAMA vice chairmen in late January (1/26), Chairman Toyoda expressed his intention to step down as chairman.
After he left the meeting, the vice chairmen discussed the situation. We agreed that, since Chairman Toyoda has led various reforms as the auto industry grapples with a sense of crisis spurred by rapid changes in the surrounding environment, we hoped he would continue these efforts until the end of his term (in May 2024). All the vice chairmen reached the consensus that we should ask him to stay on.
At the same time, faced with the resignation of a chairman who knew this environment better than anyone else, the vice chairmen concluded that, if we are asking him to remain in office, we need to be prepared to run JAMA with a more unified management structure. This falls under our second challenge of management reforms at JAMA.
Given the significance of this issue, we felt it necessary to ascertain the views of all directors and held an emergency board meeting in early February. Despite the sudden meeting, surprisingly all the directors were able to attend in person and unanimously asked Chairman Toyoda to reconsider his resignation.
We also agreed that, for JAMA to continue evolving sustainably, the vice chairmen need to run the organization as a unified team.
Since then, the vice chairmen have led lively discussions on JAMA management reforms. Then, yesterday, with all the vice chairmen present, we formally presented our request that Chairman Toyoda remain in his role, along with our direction for management reforms. As a result, Chairman Toyoda has agreed to stay on.
With regard to the reforms, we will strengthen the structure such that the vice chairmen discuss and tackle future challenges as a team, leading the way on key issues.
We would like the chairman to devote his time to sustaining the 5.5 million people across Japan's automobile industry. At the same time, we would like Toyota's incoming President Sato to work with us as vice chairman to support Chairman Toyoda.
Moving forward, we want the vice chairmen to take ownership of the challenges we face, bringing JAMA together to contribute to the development of Japan's automobile industry.
At today's board meeting, we reported the situation and outcomes, receiving unanimous approval.
The result is that Chairman Toyoda has agreed to remain in office. All of the directors feel that, as JAMA embarks on management reforms, we would like Chairman Toyoda, with his vision and experience, to steer the way forward for another year.
Over this year, the directors are committed to working together to create a sustainable, constantly evolving JAMA.
NAGATSUKA Seiichi, Vice Chairman
(President, JAMA)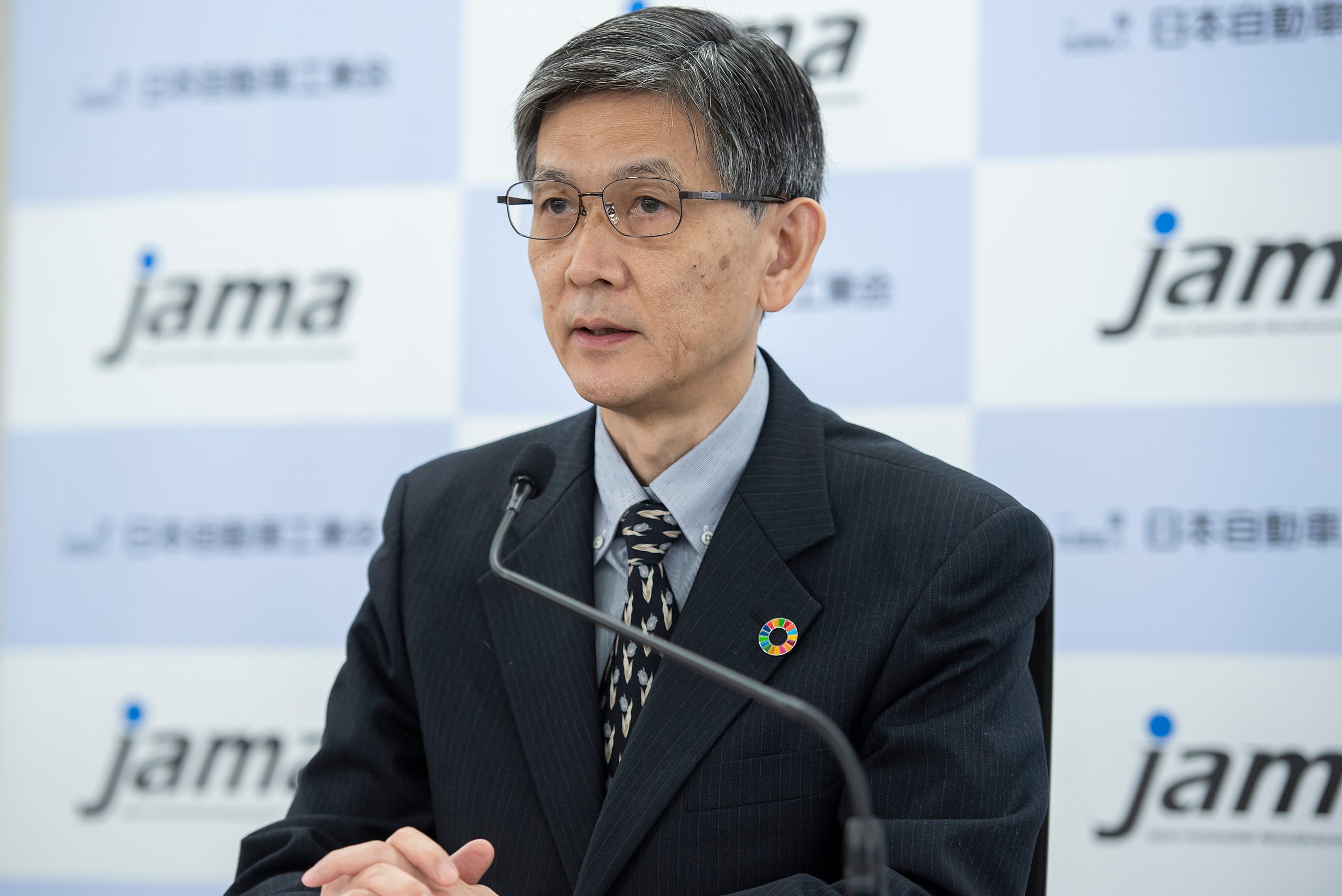 Chairman Toyoda has confronted challenges such as carbon neutrality head-on, encouraging cross-industry efforts by launching discussions with Keidanren's Committee on Mobility and the Prime Minister.
For these reasons, the directors are unanimous in wanting him to remain as chairman, and I am grateful that he has heard our views.
HIDAKA Yoshihiro, Vice Chairman
(President and CEO, Yamaha Motor Co., Ltd.)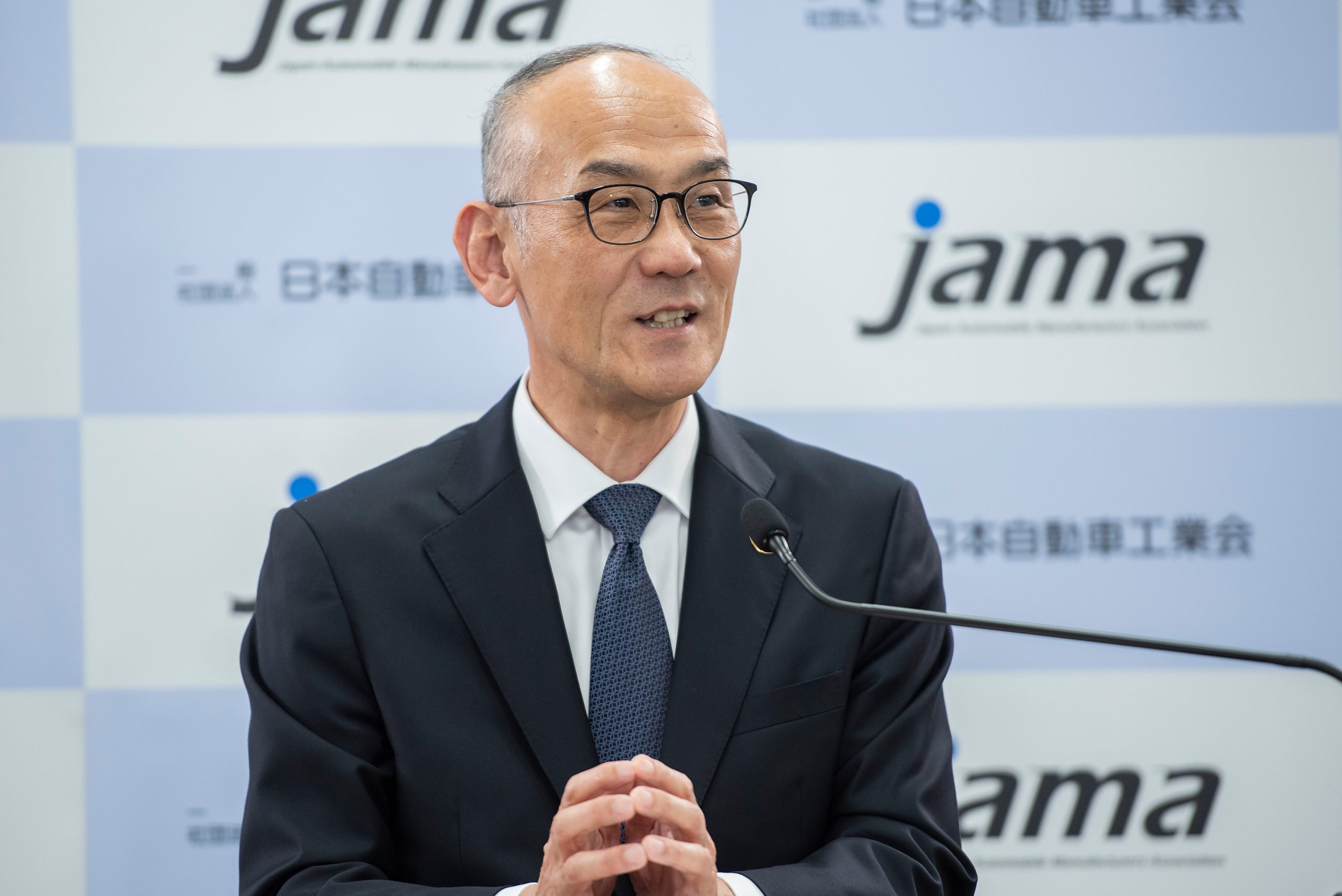 In an age of transformation, the key is constant change. This is something that JAMA must also embrace. Although JAMA has increasingly become a problem-solving organization since undergoing reforms in 2020, too much of the burden has fallen on the chairman. Personally, I realized that no matter who served as chairman, we would struggle with sustainability.
Nonetheless, we believe that revising our structure now presents opportunities. To ensure that we can take advantage of these opportunities, JAMA will work as one to overcome difficulties, dividing up roles under the new structure without fearing change.
MIBE Toshihiro, Vice Chairman
(President and CEO, Honda Motor Co., Ltd.)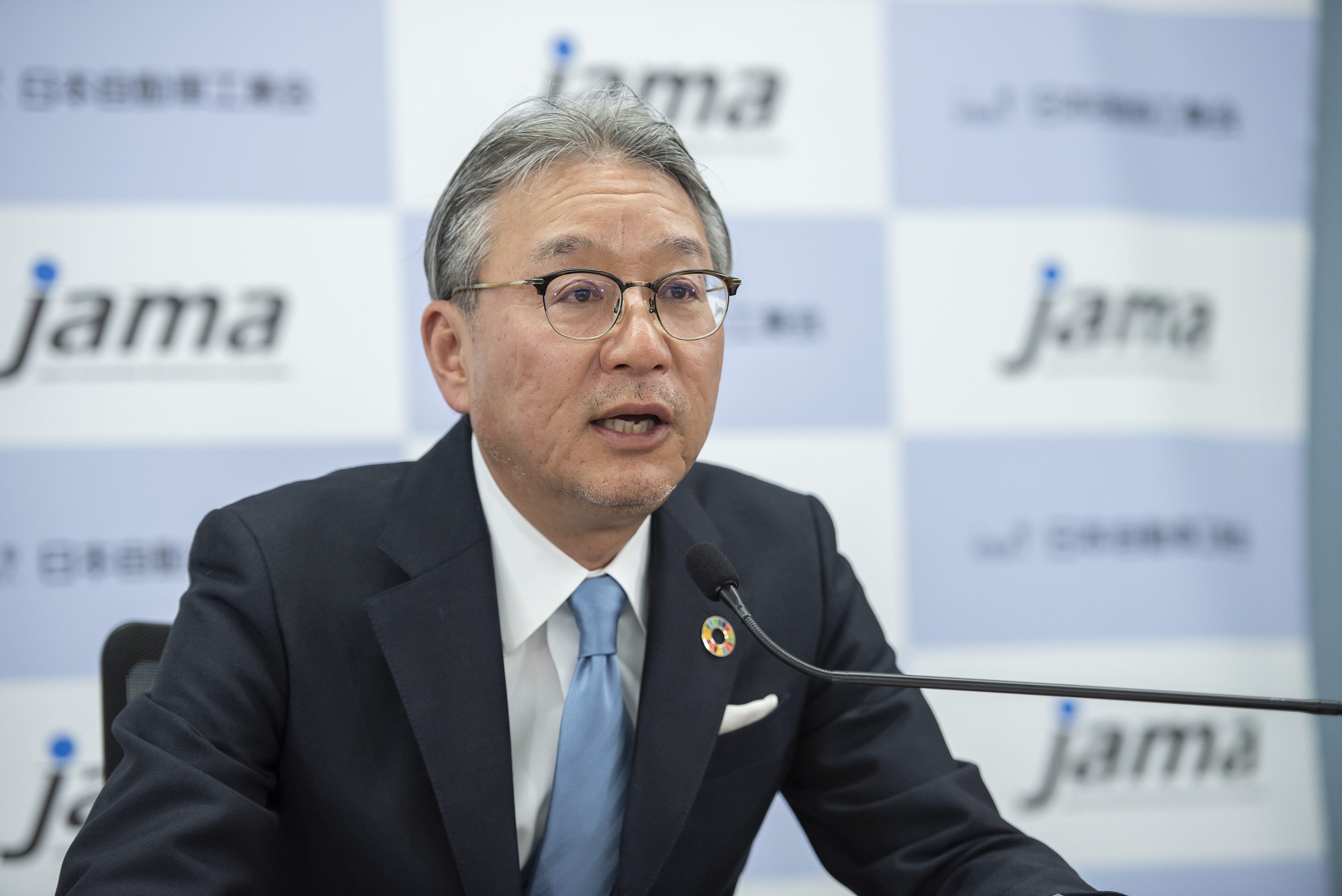 In response to various challenges, the Japan Automobile Manufacturers Association has decided to adopt a team-based management approach in which the vice chairmen play an even greater leadership role.
I too intend to dedicate greater effort toward fulfilling my duties as vice chairman. Together with incoming President Sato of Toyota, who will also join us as a vice chairman, I hope we can all work as one to create new value and transform society through mobility.
UCHIDA Makoto, Vice Chairman
(President and CEO, Nissan Motor Co., Ltd.)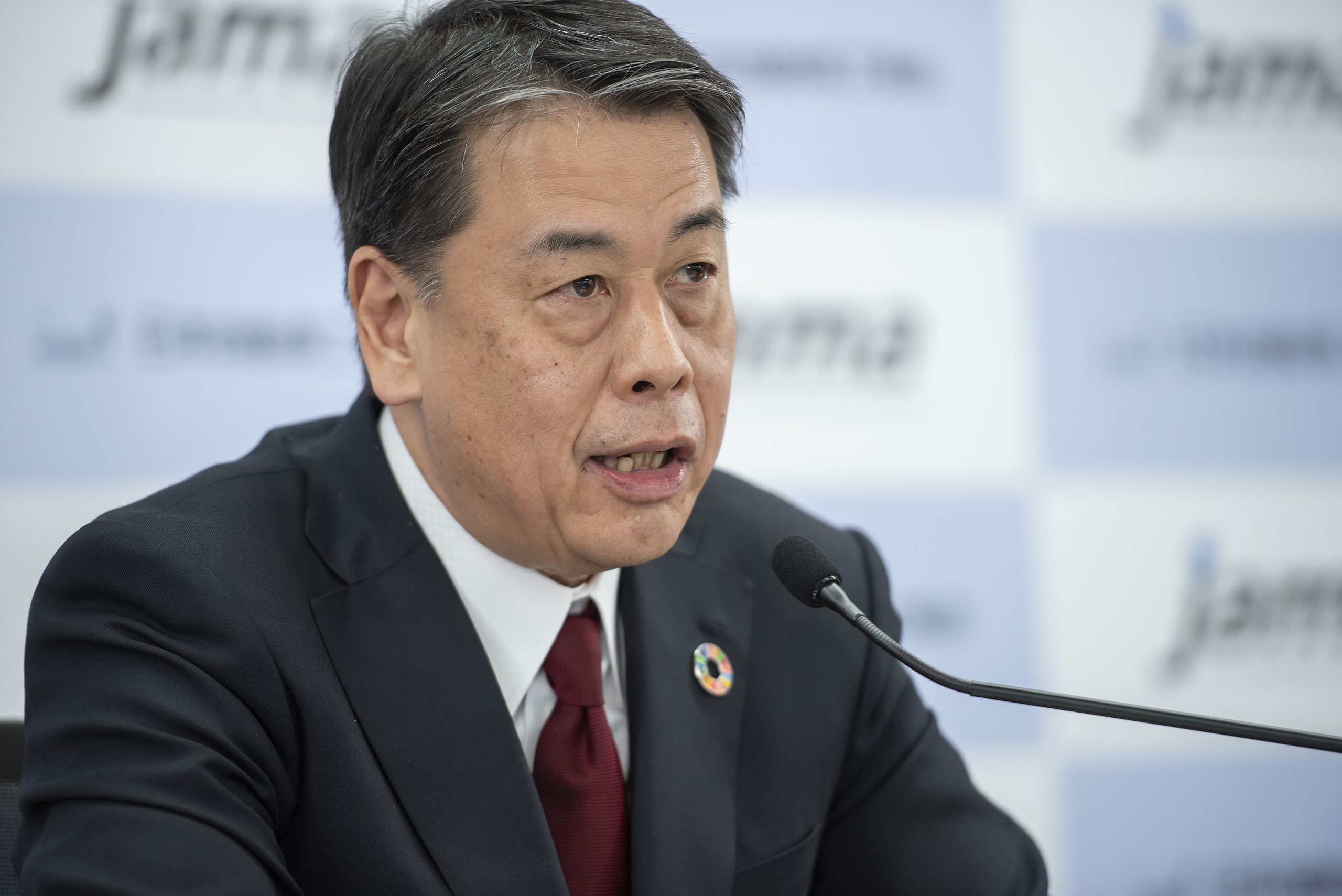 Through these discussions, we hope to further boost Japan's competitiveness and the value of our industry, driving JAMA's evolution in the process. This will be the focus of our collective efforts, as we continue to own the challenges we face.
SUZUKI Toshihiro, Vice Chairman
(President, Suzuki Motor Corporation)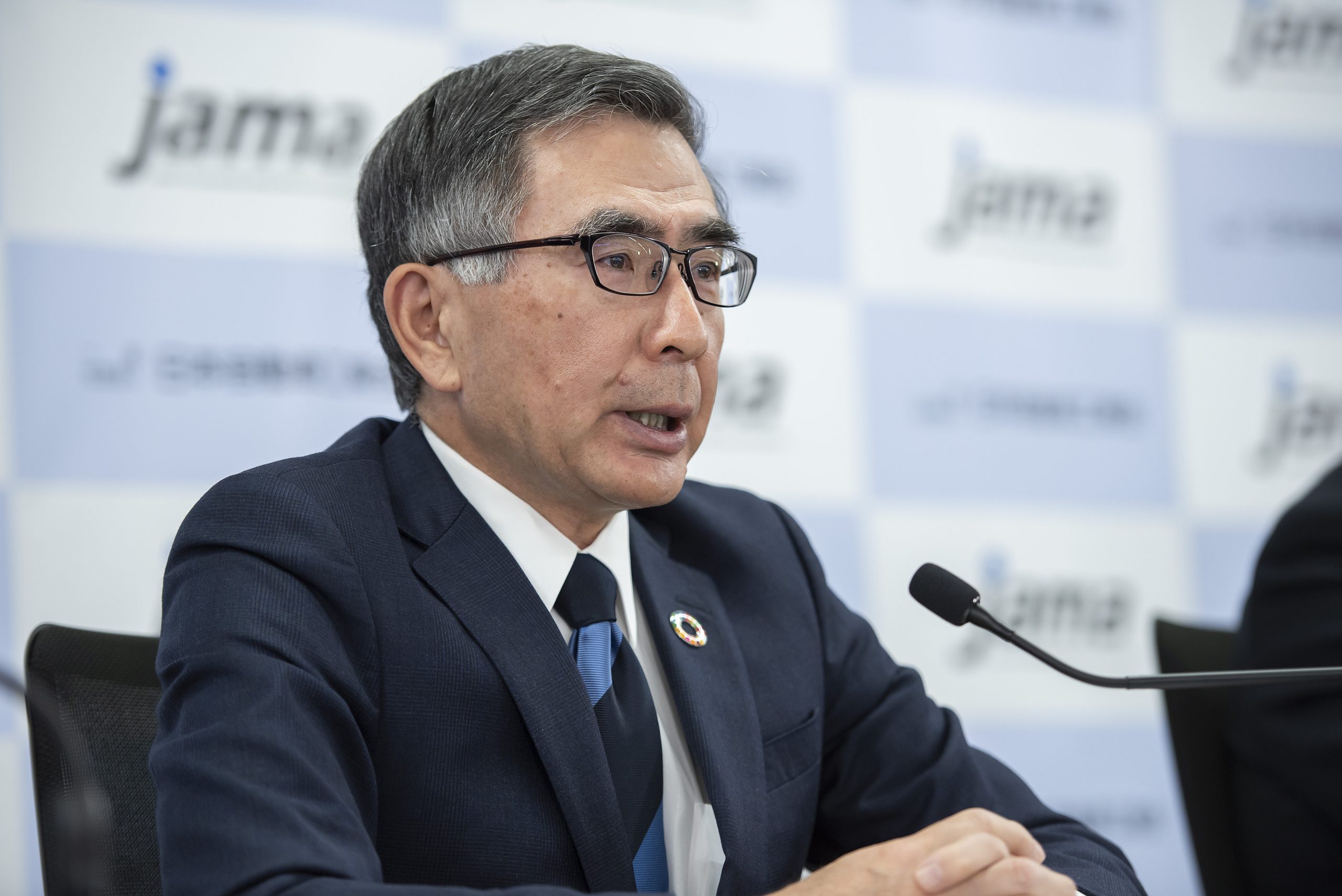 Given Chairman Toyoda's ability to spread the message, not just on behalf of JAMA but Japan as a whole, I believe that having him continue as chairman is the best option. As vice chairmen, we are committed to supporting him and working to make JAMA more dynamic.
SATO Koji, Incoming Vice Chairman
(Incoming President, Toyota Motor Corporation)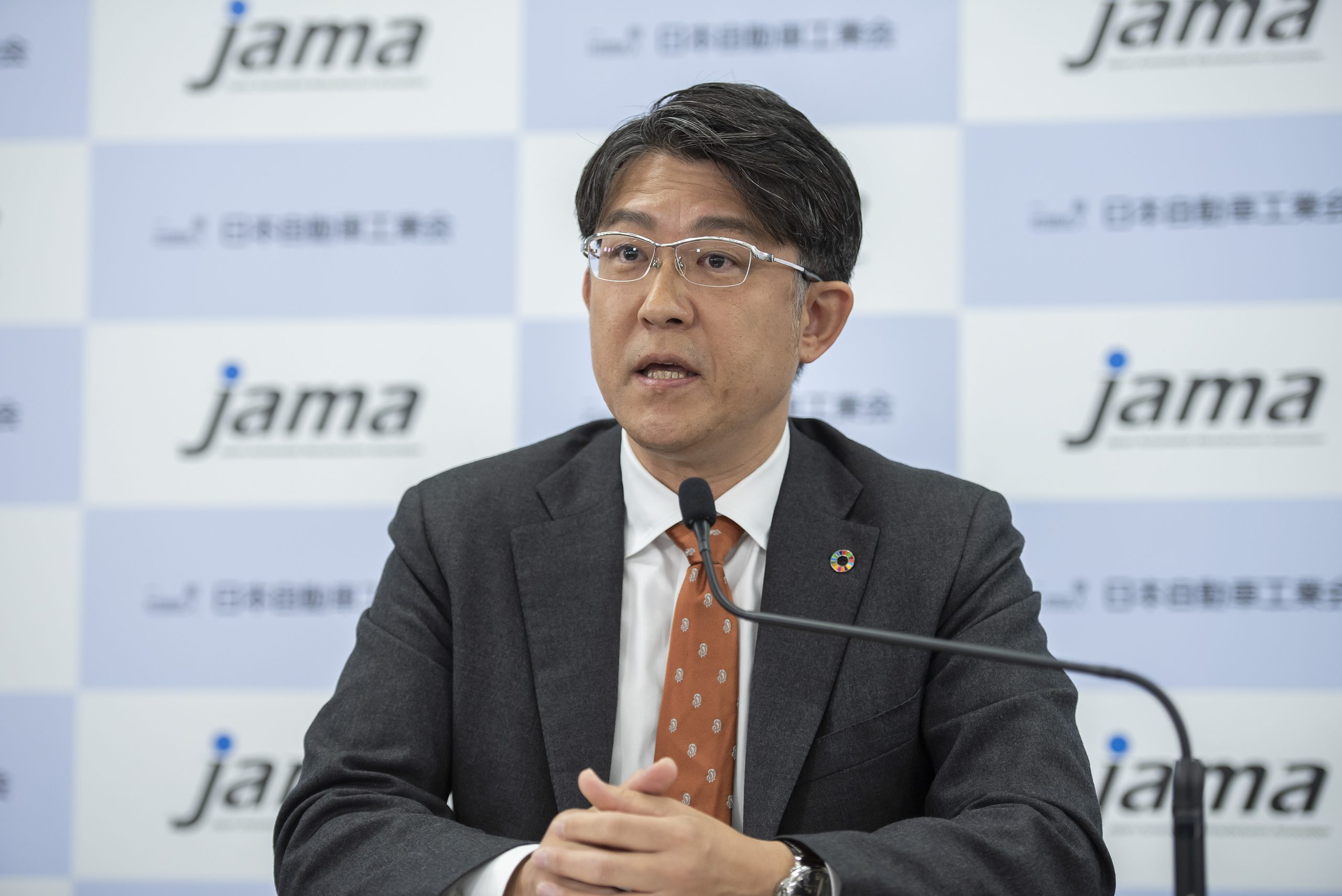 If we are to contribute to the whole industry, I believe it is crucial that we adopt a practical approach, spurring change by taking action and making improvements based on the insights we gain.
By aligning the mindsets and capabilities of our member companies, I hope that we can speed up our progress towards the future. I'm grateful for the kind words from the vice chairmen, and I am committed to moving forward together.
TOYODA Akio, Chairman
(President, Toyota Motor Corporation)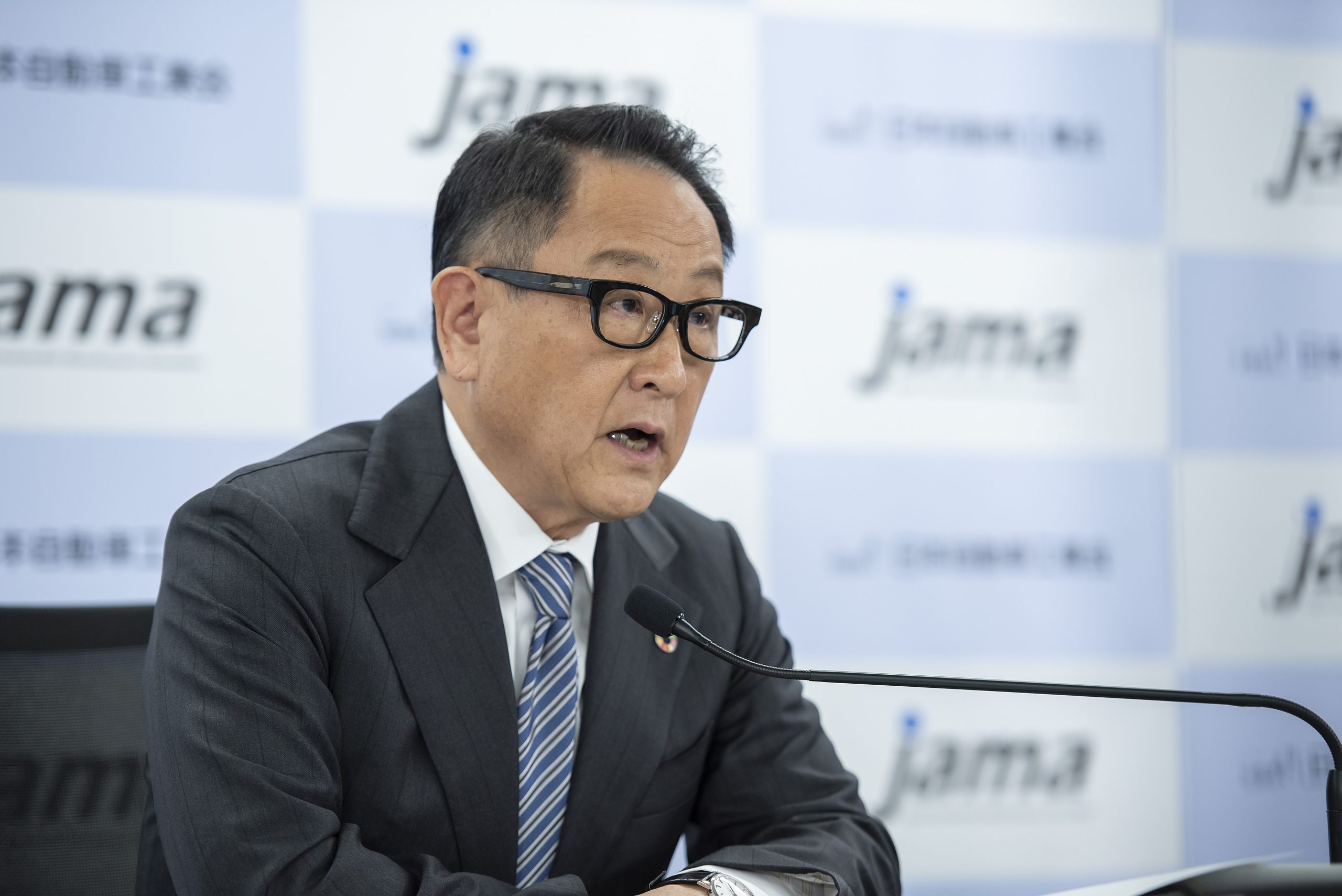 Firstly, to give some background on my resignation, I made my decision on the premise that stepping down as president of Toyota meant stepping down as JAMA chairman.
I first became involved in JAMA activities in 2010. The following year, the Great East Japan Earthquake struck, plunging the entire nation into the depths of grief, and dealing a devastating blow to the automobile industry, with a major impact on vehicle production around the world.
Ever since, even as JAMA underwent restructuring, moved to the current full lineup of vice chairmen, and rotated leadership, I believe that we were able to establish an unwavering commitment to working with our 5.5 million colleagues for the good of Japan and the future.
In the area of carbon neutrality, another urgent challenge, we are starting to see a shift in the debate, with more people embracing the idea of tailoring approaches to individual countries and regions.
Given the three hats I wear—those of Toyota president, JAMA chairman, and Morizo—I felt that I could support the auto industry and its 5.5 million people without being dragged over the coals by continuing my efforts as Morizo, rather than standing in the spotlight.
That's why I decided to step down. As Mr. Katayama mentioned, my reason for subsequently staying on is that the vice chairmen presented a concrete proposal for creating a structure to tackle challenges as a team.
And going back to what I said earlier, for me the Great East Japan Earthquake highlighted the fact that the auto industry is a collective effort—where losing even a single company might mean we can no longer produce cars, motorcycles, heavy-duty or minivehicles—and that the world needs Japan's automobile industry.
I believe this experience became the unwavering core of my activities at JAMA, where 12 years have already passed since I first assumed the role of chairman.
In my inaugural address, I made two commitments that would guide my efforts at JAMA: to protect Japan's automobile industry, and to lead the global auto industry. To fulfill these commitments I indicated that, above all else, I wanted to emphasize competition and cooperation.
My mindset has not changed at all—if anything, it has only grown stronger. In my remaining year in office, I will do my utmost to ensure a happy future for the JAMA vice chairmen, directors, and staff, along with the other 5.5 million people in Japan's auto industry. Thank you for giving me that opportunity.

Automobile Industry's Priorities in FY 2023
At the press conference, JAMA also presented its four key areas for the 2023 fiscal year.